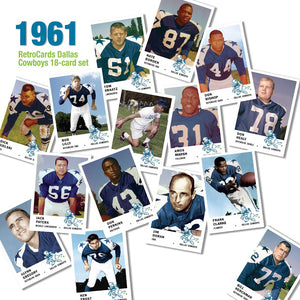 1961 Cowboys: Building Talent, Building Character
After going winless in their inaugural season, the Cowboys could only go in one direction.  1961 saw them get off to a quick start by going 3-1(beating the new Vikings and the lousy Steelers) before the league caught up with them.  Their 4–9–1 finish was an improvement and some stars began to develop, namely Don Perkins and Frank Clarke on offense and Bob Lilly and Don Bishop on defense.  Tom Landry was installing the flex defense but it would take some time before the players bought into it – let alone understand it!
RetroCards designed 18 new Cowboy cards that supplement the beautiful 1961 Fleer set which featured both NFL and AFL players.  Players include: Tom Landry, Tom Braatz, Jim Doran, Don Healy, Nate Borden, Bill Herchman, Frank Clarke, Ken Frost, Don Bishop, Glynn Gregory, Bob Lilly, Amos Marsh, Dick Bielski, Jack Patera, John Houser, Dick Moegle, Don Perkins, and Gene Babb.  Get yours
here
.
---