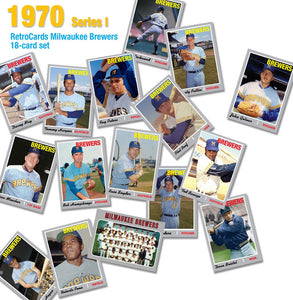 1970 Brewers Inaugural Set, Series I
When the Milwaukee Brewers were acquired by Bud Selig's ownership team in 1970, they purchased the Seattle Pilots out of bankruptcy court.  Selig named the club the Milwaukee Brewers after the minor league team of the same name he had watched in his youth, which existed until the arrival of the Braves in Milwaukee in 1953.
Since the move to Milwaukee received final approval less than a week before the start of the 1970 MLB season, there was no time to order new uniforms. Selig was forced to simply remove the Seattle markings from the Pilots' blue-and-gold uniforms and sew "BREWERS" on the front.  As a result of this last minute city change, the Brewer fans of Milwaukee had to resort to collecting Seattle Pilot cards in 1970.
RetroCards has created an extensive inaugural 1970 Brewers set featuring a wonderful mix of up-and-coming players, cast offs, and hopefuls.  Series one includes: Tommy Harper, Dave May, Phil Roof, Skip Lockwood, Mike Hegan, Mary Pattin, Roberto Pena, Floyd Wicker, Russ Snyder, John Gelnar, John O'Donoghue, Bob Humphreys, Ted Savage, Ray Peters, Don Mincher, Ken Sanders, manager Dave Bristol, and a team card/checklist.  Get your set 
here
!  Watch for Series II coming soon!
---