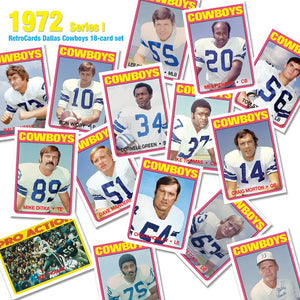 1972 Dallas Cowboys Series I
The Cowboys had finally won the big one in 1971 after five straight disappointing post season losses.  Tex Schramm put the crowbar in the old wallet and put together a team that couldn't possibly lose.  Yet had it not been for Roger Staubach, they probably would have lost.  Coach Landry made the decision to start Staubach over Craig Morton and the Cowboys never looked back.
Every starter on offense consisted of and All-Pro, a Pro Bowler (at one time or another), and/or a future Hall of Famer.  Even late insurance pick up Forrest Gregg, was a shoe-in Hall of Fame player.  Backups Calvin Hill and Dan Reeves plus special teamers Ron Widby and Mike Clark even were Pro Bowlers in their respective careers. Defensively they were just as strong with two of the best linebackers in the game: Chuck Howley and Lee Roy Jordan.  Hall of Famers Mel Renfro, Herb Adderley, Bob Lilly led other stars like Cornell Green and Jethro Pugh.  New and up-and-coming players like D.D. Lewis, Cliff Harris, and Charlie waters also were big contributors.
Consequently, the original football set of 1972, though large, couldn't possibly include all the greats so RetroCards addresses this with an 18-card set full of Cowboy stars you'll love: Mike Ditka, Ralph Neely, Ron Widby, Dan Reeves, Dave Manders, Craig Morton, Mel Renfro, Cornell Green, George Andrie, Larry Cole, Jethro Pugh, Dave Edwards, Lee Roy Jordan, Chuck Howley, Ike Thomas, Tom Stincic, Tom Landry, plus an In Action card of Ike Thomas. Get
series one here.
Watch for series II coming soon!
---