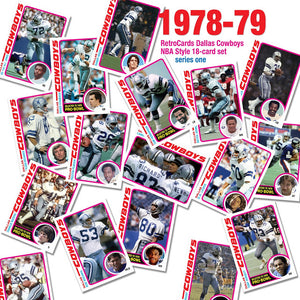 1978 Cowboys: Nothing But Net
The Cowboys came very close to repeating as NFL Champions in 1978 but couldn't overcome the Steelers in Super Bowl XIII. Memories of this edition of America's team had to last a long time as the Cowboys would not return to the Super Bowl until two decades later.  Fortunately, this team was memorable and had some of the most exciting players in the NFL at the time.
This attractive NBA design from 1978-79 is the basis for another RetroCards Cowboys set.  With a game action shot and closeup head shot, this familiar design was perfect for a football set.  In this series one, you will find Golden Richards, Roger Staubach, Randy Hughes, Ed "Too Tall" Jones, Thomas Henderson, Preston Pearson, Charlie Waters, Benny Barnes, Butch Johnson, Bob Breunig, Randy White, John Fitzgerald, Tony Hill, Rayfield Wright, Scott Laidlaw, D.D. Lewis, Tony Dorsett, and a Tom Landry team card.  
Order here.
Look for new NBA cards from RetroCards featuring this great design featuring the players we grew up with. 
---