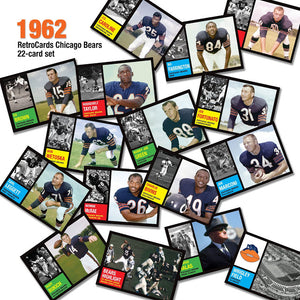 1962 Bears: Clawing Their Way Back
The Bears were slowly climbing back up in the ranks going from a 5-6-1 record in 1960 to a 9-5 record in 1962.  The football world would have to wait another year to see if the Bears had the firepower to win a Championship.
On the surface, it didn't seem like the Bears were going to do much but that changed with the arrival of tight end Mike Ditka in 1961 who helped make Billy Wade look like an actual NFL quarterback!  The Bears staunch defense was still tough as nails and the Bears took 3rd place in the Western Division in 1962.
RetroCards focuses on the 1962 Bears for this 22-card set.  Like several past sets, this one includes a stadium card, and a "Bears play" action card along with 20 players that didn't make it in the original set released in 1962, including Mike Pyle, J.C. Caroline, Ed Brown, Bo Farrington, Dave Whitsell, Bennie McRae, Bob Wetoska, Bobby Joe Green, Roosevelt Taylor, Bob Kilcullen, Joe Fortunato, Fred Williams, Harlon Hill, Herman Lee, Earl Leggett, Charlie Bivins, Rudy Bukich, Maury Youmans, Joe Marconi, and the old man himself, coach George Halas.  
Get your set here!
---