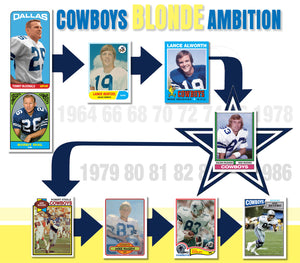 Dallas Cowboys: The All-American Handsome Blond Receiver
An earlier RetroCard post discussed the innovative "3rd down back" receiving position revolutionized by the Dallas Cowboys and Preston Pearson in the 1970s. But there was another less talked about receiver, also pioneered by the Cowboys. That was the "All-American Handsome Blond Receiver" position. The string of pretty-boy wide receivers that passed through the organization is interesting if not peculiar. Possibly foreseeing the marketing benefits of combining the long ball and good looks, the Cowboys began their quest and formulated a look becoming of "America's Team."

The blond syndrome began in 1964. Despite having a rising star receiver in Frank Clarke (who from 1961-1963 averaged 44 catches for 932 yards, for a 21.3 per catch average and 11 TDs), the Cowboys went out and traded for two All-Pros in Buddy Dial and Tommy McDonald. Both were flashy and boasted gaudy receiving numbers over the previous 4 seasons. However, neither could duplicate success with the Cowboys, while Frank Clarke out shown both of them in every category, including being named to several All-Pro teams in 1964.

McDonald was traded and Dial fizzled out due to injuries, so the Cowboys brought in little known Lance Rentzel who very quickly was paired in the starting lineup with Bullet Bob Hayes. With defenses double teaming Hayes, Rentzel began to be targeted more. By 1968-69, his numbers were outshining those of All-Pro Hayes! Rentzel, now a star in his own right, married smokin' hot Hollywood starlet Joey Heatherton, further elevating his public image as the all-American male.

The position took a hit when an unfortunate compulsion saw Rentzel suspended in 1970 and then traded to the Rams. The Cowboys, now a perennial Super Bowl contender, needed a replacement. They probably thought, "maybe the public wouldn't notice if we brought in another great receiver, whose name is also Lance, wears #19, and has all-American good-looks!" Enter future hall-of-famer Lance Alworth. Though in the twilight of his career, Alworth contributed to the Cowboys first Super Bowl victory with a crucial touchdown. (Editor's note: Alworth's hair was actually brown. But his infectious smile, trendy sideburns, and graceful receptions sufficiently allowed Cowboys management to overlook this minor detail).

Upon Alworth's retirement in 1972, there was no heir apparent for the position of All-American Handsome Blond Receiver, having traded away both Billy Parks and Ron Sellers. In a surprising move, the Cowboys drafted wide receiver Golden Richards in 1973, who had been injured his entire senior season at Hawaii and didn't have top-notch receiving skills. BUT he was blazing fast and blazingly blond. He was assigned jersey #19 in training camp, continuing the tradition started by "Rentzworth." However, he was forced to change his number to #83 due to the newly instated NFL position designations for wide receivers. Richards had a commendable career and, for a time, was the fastest guy on the team. He was involved in the local community, was loved by fans, and even dated Olivia Newton-John! After all his name was "Golden." He made a big splash with several key touchdowns in the playoffs – the splashiest coming as the game sealing touchdown in Super Bowl XII.

Unfortunately, his build was slight by NFL standards, weighing closer to 165 pounds than his inflated listed weight of 184 pounds. It was no accident that the Steelers knocked him out early in Super Bowl X. The hits took their toll as did pain killer abuse which led to an unpublicized overdose. He was quietly traded to the Chicago Bears in early 1978. Fans were outraged. (I found out about the trade on the playground on the mean streets of Milwaukee. I'll never forget my disappointment).

Luckily, blue-collar long shot Robert Steele was in training camp and made the active roster after Richards' departure. Wearing #82, (it must have been too early in the mourning period to issue him #83) Steele played on special teams in the mold of the Eagles' Vince Papale. Despite his great heart and work ethic, Steele only lasted one year.

The Cowboys were desperate. In 1980 Mike Hagen, a former Cowboys ballboy, made the papers by impressing coaches in training camp as he graced the cover of The Dallas Cowboys Weekly with his blond hair glistening in the sun. Despite the good-feel story, he didn't make the team.

Unable to move up in the 1981 draft to land Chris Collinsworth (who did not have the prerequisite "Hollywood nose") the Cowboys drafted a Golden Richards clone in Doug Donley, who, like Richards, had blond locks, tremendous speed, and brittle bones. Assigning him – you guessed it – #83, Donley was a suitable backup receiver who didn't have the game changing abilities of Richards. When coach Landry surprisingly started him over Butch Johnson for a brief time in 1983, the infatuation was all too obvious. Johnson, a superior receiver, voiced his frustrations and was dually traded the following year to the Houston Oilers for Mike Renfro. Not to be confused with Lover Boy lead singer Mike Reno, Mike Renfro was a tad earthier-looking but could produce where it counted – on the field. Dallas fizzled as the decade of the 80s wore on and the Cowboys gave up on the All-American Handsome Blond Receiver for good as the Landry regime came to an end.

The Cowboys went through a string of young hopefuls like Karl Powe, Leon Gonzales, Mike Sherrard, Kelvin Edwards, Cornell Burbage, Ray Alexander, and Everett Gay until Michael Irvin came along to restore order to the position. Maybe coach Landry just liked his wide receivers like he liked his women: fast and blond. Could you blame him?

P.S. Seems to me that measly Cole Beasley should've worn #83? Oh well. Many of the cards shown above are from Cowboys RetroCards sets already available or are from forthcoming sets. Check back often!
---