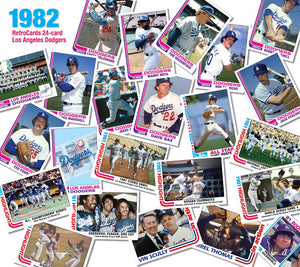 Dodgers Finally Do It! Expanded 1982 Set
The most memorable thing about the 1981 Major League Baseball season was the players strike which lasted from June 12 through August 9, splitting and shortening the entire season at the same time.  However, Dodger fans remember that year with a smile because it was the franchise's first World Series title in 15 years.   
Having been a great team with great players for a decade, this Dodger team couldn't win the big one. And with guys like Cey, Russell, Lopes, Baker, Hooten, Johnstone, Monday, and Garvey getting old, time was running out.  They had lost three World Series in the 70s and narrowly missed the playoffs in 1980, losing a tie-breaker in the 163rd game of the season.  It appeared the curtain was almost closed.  Realizing this, perhaps, manager Tommy Lasorda sent each player a personal letter over the prior winter challenging and encouraging the players.  They knew what was at stake.
Winning 29 of their first 40 games, the Dodgers looked like the hottest team in baseball.  But the strike interrupted their momentum and they stumbled in the second half finishing only one game over .500.  No matter.  They were a veteran team with bright young players like rookie Fernando Valenzuela and they played loose and played smart.  Rick Monday remembers, "I know we were desperate because a lot of us, (we) were not necessarily at the end of our careers, but we were approaching that area, and there was an influx of younger talent. There was an immediacy of wanting to get things done and get things done in a hurry."
In the playoffs, things got exciting with a comeback win over the Astros after being down 2 games to none.  A second 2-0 deficit against the Expos was erased and won with a dramatic Rick Monday homer.  And finally, the Dodgers got their revenge on the New York Yankees after losing successive World Series in 1977 and 1978.  Again down 2 games to none, the Dodgers kept their poise and won the next 4 games!
This 24-card RetroCards set fills in some gap of players that were missed in the regular and updates sets of 1982 such as: Manny Mota, Tom Niedenfuer, Ron Roenicke, Mike Marshall, Jerry Grote, Jack Perconte, Bobby Mitchell, Dave Sax, Ted Power, and Candy Maldonado.  Also featured are an All-Star card of Burt Hooten and a Cy Young and Rookie Of the Year winners showcasing Valenzuela.  It also has cards of every playoff series including three fun World Series cards and other highlight cards featuring Tommy Lasorda being interviewed by Vin Scully, and the very fun card of Rick Monday shoving a cream pie in Jay Johnstone's face.  Those were the days!  Coming soon.
---