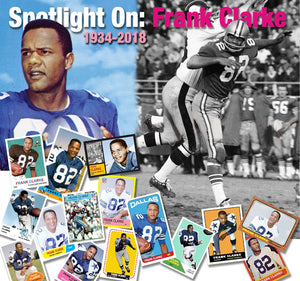 Frank Clarke: Original Cowboy
The passing of NFL receiver Frank Clarke called to mind some of the old players who have graciously autographed RetroCards or have asked for a stack of RetroCards because no cards had never been made of them.  One of the reasons RetroCards came to be is to create cards for some of the forgotten players or players that had fans but no cards for the fans to collect. 
Frank Clarke was in correspondence with RetroCards after we sent a few cards for him to sign. Any good autograph seeker always slips the athlete a few bucks if one is asking for an autograph by mail and that's what we did when sending Mr. Clarke some of our original cards to sign. Here is his reply.
Dear RetroCards,
Thank you for the honor of signing these cards....and for the check. With all due respect I am returning your check. Pretty good lookin' dude on that card, huh? No wonder he ran so fast....didn't want anybody to mar that handsome face with an opponents helmet or fist to the face. I'm sure you [at RetroCards] are wonderful people. I'm inspired to be also.  Take care,
Frank.
Originally from Wisconsin, Frank went to the University of Colorado and was the first black varsity player and his play there got him inducted into the Colorado Athletic Hall of Fame.  Drafted by the Cleveland Browns in 1957 and only caught 10 passes in three seasons before being left unprotected in the 1960 expansion draft.  The Cowboys snagged him and he soon became the team's deep threat. In eight seasons he caught 281 passes for 5,214 yards and 51 touchdowns and held the team record for most touchdowns in a season (14) until it was broken by Terrell Owens 45 years later in 2007. He became a sportscaster after his career and eventually went into childcare fulltime.
Frank died July 25, 2018 and it struck a chord with many Cowboy fans.  As one of the old gentlemen of the 1960s Dallas Cowboys, he will be remembered as one of the first Cowboys stars. Check
RetroCards.net
for many Frank Clarke cards.
---