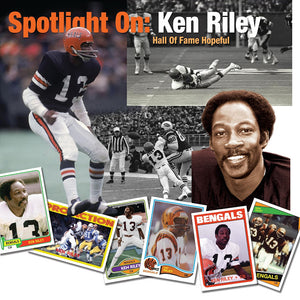 Hall Of Fame Hopeful: Ken Riley
At Florida A&M, Ken Riley was a quarterback who was not just a gifted athlete, but an exceptional student, earning his team's scholastic award and a Rhodes Scholar Candidacy.  After being drafted in 1969 by the one-year old Cincinnati Bengals, coach Paul Brown had Riley switch to cornerback during his first training camp.  Riley became a fixture as the starting cornerback for the next 15 years.
He had a busy rookie year starting at right cornerback, returning kickoffs and even caught two passes on offense.  Nicknamed "the rattler," Riley quickly became one of the best corners in the NFL but there was someone getting more attention than him – his teammate Lemar Parrish, who played at the left cornerback position. Though Riley was named to various All-Pro teams between 1975 and 1983, to my surprise (and horror) Riley never played in the Pro Bowl.  From 1970 though 1977, Parrish made the Pro Bowl six times though Riley out performed him by a wide margin based on interceptions (36 to 25).  The most glaring Pro Bowl emission was 1976 where Riley led the AFC with nine interceptions while Parrish only had two.  It's usually a given that the Conference interception leader is named to the Pro Bowl but the AFC sent Parrish over Riley.  Parrish was a fine corner and excellent punt returner and was deserving of Pro Bowl recognition but sending two corners from the same team in the era of the 70s almost never happened.
This Pro Bowl issue seems to be the sticking point with the Pro Football Hall of Fame committee.  Let's face it, Cincinnati doesn't get much respect. Bengal quarterback Ken Anderson faces the same problem.
Rick "Goose," Gossellin of the Dallas Morning News, who is on the committee of Hall of Fame committee, has made an excellent case for Riley's inclusion in the Hall (read that article
here
).  He quotes Riley, "Lemar and I were like Willie Mays and Hank Aaron," Riley said. "Willie Mays was the flashy one. That was Lemar. But I was the one getting all the interceptions." 
Samuel G. Freedman's New York Times
article
from August, 2013 quotes the Steelers John Stallworth as in support of Riley's value and worthiness.  Chris Collinsworth is even a bigger advocate of Riley, who taught Collinsworth more than anyone he ever played against.
In 1983 at the age of 36, Riley intercepted eight passes – two for touchdowns – and was named Sporting News  1st Team All-Pro.  But still no Pro Bowl.  He retired with 65 career interceptions, 4th on the all-time list and is the second place cornerback behind Dick "Night Train" Lane.  There is still time for the Pro Football Hall of Fame Committee to get it right while Mr. Riley is still with us.  I hope they do.
---