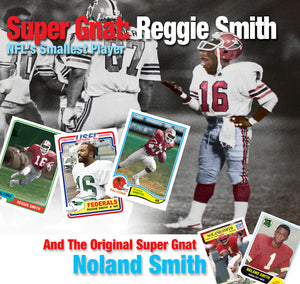 Super Gnat: NFL's Reggie Smith
Small athletes in professional sports always seem to grab attention.  Tyrone "Muggsy" Bougues and Spud Webb were regularly featured in magazines and articles due to being very short basketball players.  Both had long careers and the novelty of a short basketball player always drew laughs.  The most famous short athlete has to be Eddie Gaedel of the St. Louis Browns who at 3' 7" was the subject of one of the strangest stunts in professional sports.
Though he would probably prefer to be remembered more for his playing than his height, wide receiver and kick returner Reggie Smith played parts of three seasons in the NFL and one more in the USFL.  He also made a name for himself in the Arena Football League, for which he was ultimately inducted into the Arena Football Hall of Fame for his considerable efforts.
At 5'4" Smith has been the shortest player to appear in an NFL game.  A kick returner for the Falcons in 1980-1981, he was one of the league leaders in yardage (1,143 in 1981), he made a big impact with the Washington Federals in 1983, taking the leagues first kickoff and returning it 30 yards.  He had a big first game against the Chicago Blitz (5 kick returns for 81 yards, 6 catches for 87 yards) but went down with an injury and was lost for the season.
He was known as "super gnat" as he explains, "My sister's boyfriend gave me that name when I was in high school, I wasn't the first to have it, though. I got if from Nolan [sic] (Super Gnat) Smith, who ran back kicks for the Chiefs about 10 years ago. He was my hero for a while"  (Dave Remnick, The Washington Post, February 4, 1983).
Noland Smith, a similar type player from the era before Reggie Smith came to the NFL,  was 5'5" and did have a brief but productive career with the Chiefs in 1967-1969.  He led the AFL in kick return average, yardage, and touchdowns in 1967.  The diminutive Chief was also unique for wearing the number 1 on his jersey.  Lifetime, his 10.1 yards per punt return and 26.1 yards per kick return are impressive but he could extend his career past three years.
RetroCards adds some stature to these pint-sized players.  Look for these custom cards in future RetroCard sets!
---