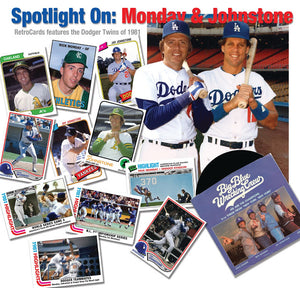 Spotlight: The Johnstone-Monday Connection
Two old school baseball players from the 70s and 80s that I grew up admiring were Rick Monday and Jay Johnstone.  Neither played for my hometown team but as I collected baseball cards, those two players always stood out to me.  When the Los Angeles Dodgers made their World Series run in 1981 I had fun watching Monday and Johnstone make big contributions on the road to the Dodgers World Series victory.   I've always been partial to role players and Johnstone and Monday were unlikely heroes on a team chock full of stars and great players.  That Dodger team seemed to be having fun and didn't take things too seriously and Johnstone in particular, added humor along the way with his many pranks in the clubhouse. 
Both players seemed like brothers and I was surprised that they had some interesting things in common: 
• they were born on the same day (November 20th)
• both served in the Marine Corps Reserve
• they each played for the A's, Cubs, and Dodgers
• started MLB careers in 1966
• their pro baseball-playing careers lasted 2 decades
• they had similar career batting averages (Johnstone: .267, Monday: .264)
1981 Game Winning Efforts
Rick Monday: In the deciding Game 5 of the NLCS in Montreal vs. the Expos (played on a Monday afternoon due to an earlier rain out) he smashed a 2-run homer to win the game.  This was the closest the Montreal Expos ever got to winning a pennant and to this day is known in Canada as "Blue Monday."
Jay Johnstone: Hit a pinch-two run home run in Game Four of the 1981 World Series against the New York Yankees, the home run rallying the Dodgers from a 6–3 deficit to win 8–7. The victory also enabled the Dodgers to tie the Series at two games each; they won the next two games to win it all.
Other Notable Achievements
• Monday rescued the American flag from being burned by two fans in center field at Dodger Stadium in 1976.  He said after the game, "If you're going to burn the flag, don't do it around me. I've been to too many veterans' hospitals and seen too many broken bodies of guys who tried to protect it."  Monday still has the flag he rescued from the protesters; he has been offered up to $1 million to sell it, but has declined all offers.
• While with the Angels, Johnstone preserved Clyde Wright's no-hitter against the Athletics by catching a Reggie Jackson fly ball 400 feet from straightaway center field, just in front of the wall (July 3, 1970).
• As a Phillie, Johnstone went 7-for-9 in the 1976 National League Championship Series against the Cincinnati Reds. However, the Reds swept the Series. 
• Both appeared on Solid Gold and sang their own rendition of Queen's hit, We Are the Champions with teammates Steve Yeager and Jerry Reuss.
Above are samples of cards from the forthcoming RetroCards sets.  Check back often!
---