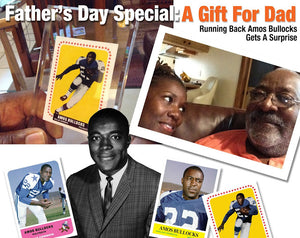 Spotlight On: Amos Bullocks
Early Cowboys fans probably remember a 20th round draft pick in 1962 from Southern Illinois named Amos Bullocks.  He gained almost 2,500 yards rushing and scored 32 touchdowns in three collegiate seasons.  He was also named All-Illinois Intercollegiate Conference three times and back of the year in 1960.  Drafted simultaneously by the Buffalo Bills of the AFL, he chose signing with the Cowboys, adding depth at the halfback position behind Don Perkins.  Bullocks' size and speed made him a valuable player running the ball, catching passes out of the backfield, and returning kick offs.
One of the many joys of  making custom RetroCards is the feedback we get from customers.  One very special one was Krista Weaver, daughter of Amos Bullocks.  She had contacted us about acquiring some cards of her dad, since he never had a card.  We had a couple of his cards in some Cowboys team sets and we gladly furnished her with a stack.  She presented them to her Dad on Fathers Day and she received a great big smile from her Dad.
Amos Bullocks had his best years in the NFL with the Cowboys from 1962-1964 where he piled up 537 yards rushing, 116 yards receiving, and 737 yards on kick off returns. In a strange occurrence, the Cowboys traded Bullocks to the Canadian Football's British Columbia Lions because the Cowboys had drafted a guy named Bill Frank, who happened to be under contract in the CFL.  Bullocks' 1965 season ended with a broken ankle after rushing for 215 yards.  After a brief signing with the Montreal Alouettes, he returned to the NFL for a final season with the Pittsburgh Steelers in 1966.  A back injury in 1967 spelled the end of his playing career, but in 1981 he was honored by being inducted into the Southern Illinois Athletics Hall of Fame.
RetroCards honors Fathers on this Fathers Day, 2017 with a special tribute to Amos Bullocks.  Check back for more Spotlight Features and the best custom cards being made today!
---