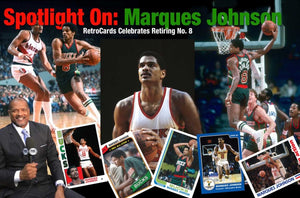 Spotlight On: Marques Johnson
In the 1990s, NBA franchises went on a frenzy of retiring old players numbers. Though appropriate to honor the past, it was overdone and devalued the contributions of the truly great players. The Milwaukee Bucks, who have a very rich history, was one of the franchises that some contend "over-retired" numbers. This happened at a time (the 1990s) when the franchise was struggling and since it was hard to fill seats with a losing record, remembering past glories seemed to fill the void of winning. The Bucks have retired eight numbers thus far, but one deserving player's number has been conspicuously absent: Marques Johnson. Approximately 30 years on, his number remained available for any wash-out, loafing, stiff to wear. Seeing Larry Sanders donning number 8 was an abomination!
The list of Bucks numbers hanging in the rafters is a formidable bunch: Kareem Addul-Jabbar, Oscar Robertson, Jon McGlocklin, Brian Winters, Bob Lanier, Junior Bridgeman, Sidney Moncrief, and Bob Dandridge. Marques Johnson, one could argue, is among the top 5 players in franchise history and yet is not there. His stats are certainly not the issue. While with the Bucks, he played in 524 games, averaged 1,568 points per season, 21.0 points per game as well as 7.5 rebounds per game, and shot 53% from the field. He is a five-time All-Star and the Bucks made the playoffs 6 of 7 seasons he was with the team. He was an excellent defender and excellent shot-blocker. Plus, Michael Jordan, the greatest of all time, had Marques' poster on his bedroom wall growing up. So what is the issue?
It has to do with a contract holdout in 1981 that the former ownership held against Johnson in the decades that followed. Also, Marques Johnson was not involved in the Milwaukee community in the off-season, preferring to spend summers in Los Angeles, which was in contrast to most of the other honored players. The fact of the matter is, if you want to get your number retired by the Bucks, your resume better include community service!
Johnson's resume hardly needed it. In a 1983 poll of fans, Johnson was ranked the #1 "Bucks Fans' Favorites." This ranking was done for the Bucks 15-year anniversary promotion in conjunction with Geiser's, a local potato chip company (see inset below). The Bucks' choices for retiring players numbers saw less prestigious players like Junior Bridgeman, Brian Winters, Bob Dandridge, Jon McGlocklin get voted in as well as players like Bob Lanier and Oscar Robertson, who were past their prime by the time they became Bucks. It's clear to anyone who knows basketball and Bucks history that there had to be a reason Marques Johnson was kept out.
In a Milwaukee Journal-Sentinal story in 2014, Johnson told Bob Wolfley, "Who wouldn't want their number retired? It would be a great honor to have the organization I broke in with afford me with that level of recognition. We were part of something special in those days with Nellie (coach Don Nelson), Brian (Winters), JB (Bridgeman), Sid (Moncrief) and the rest. The Sixers and Celtics were the only obstacle to Finals appearances and that's not too shabby considering the greats on their rosters."
Well Marques Johnson's wait is over as his number will be hung in the rafters of the new Fiserv Forum on March 24, 2019. It finally took a new franchise ownership (in 2014 and from New York for God sakes!) to make this happen. Aside from the support of the current ownership, Marques Johnson has cuddled up to Milwaukee's fans once again when he became a color analyst for the Bucks on Fox Sports Wisconsin in 2015. The March 24 game is sold out and Mr. Johnson will be stepping away from the microphone at halftime for a ceremony where he will finally get to see #8 hoisted to the rafters.
[caption id="attachment_1873" align="alignnone" width="222"]
1983 Milwaukee Bucks All-Time Fan Favorites
Marques Johnson[/caption]
---