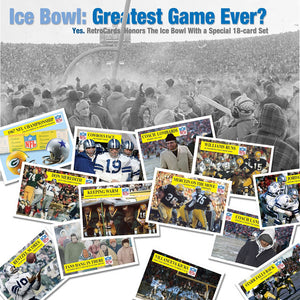 The Ice Bowl: Greatest Game Ever?
The much fabled Ice Bowl (official name: 1967 NFL Championship Game) has taken on such legendary status that has been called the NFL's greatest game. Two teams battling in the most extreme of elements is what football is supposed to be about – not replay, not "touching" the passer, and not end zone celebrations with or without props.  Not much need be said about the game, but this RetroCard set tells a chronological story in words and pictures.  Featured heavily in this set is the fan's contribution and their resilience in –40˚F wind chills. Few people left and when the gun sounded at the end of regulation, they tore down the goal posts!  That's hard core. The design of this set is a knock off of the 1964-1967 Philadelphia Gum cards that produced NFL cards for a short time in the 60s.  RetroCards is calling this set "1968 Philly Action," and is part of a series of team sets that will also be released in this design. Players featured included Bart Starr, Boyd Dowler, Chuck Mercein, Travis Williams, Vince Lombardi, Jerry Kramer, Don Meredith, Danny Villanueva, Lance Rentzel, Dan Reeves, Bob Lilly, Lee Roy Jordan, George Andrie, Tom Landry, and of course, the fans.  
Order your set here.
---