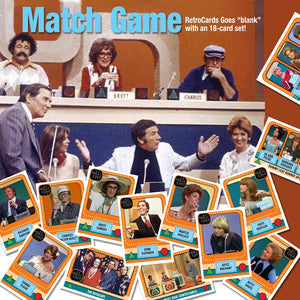 The Match Game - Leaving Nothing Blank
RetroCards continues its assault on nostalgic collectors with more 1970s TV frivolity:  Introducing the all-new, star-studded, big-money Match Game set!  This daring and provocative collection of cards focuses on what many believe to be the best game show in television history.  The 1970s version of the show is full of colorful characters, orange shag carpeting, and wide ties that will cause that funky theme song to play in your head for the first time in ages.  The show was a revamped version of the black and white 60's version of the show, but this time around, the new Match Game '73 had a distinct nod to risqué humor and subtle double entendres.  The loose atmosphere and great chemistry between host Gene Rayburn and the celebrities quickly made it the most watched show on daytime television by 1974.
This RetroCards set focuses on the show's celebrities and includes "stats" of total show appearances and years active on the show.  Where else but RetroCards can one obtain the Charles Nelson Reilly rookie card?  The 18-card sets includes all the show's regulars and recurring guests such as Gene Rayburn, Richard Dawson, Brett Somers, Charles Nelson Reilly, Betty White, Fanny Flagg, Joyce Bulifant, Patty Deutch, and Marcia Wallace. Other featured stars included in this set are: Nipsy Russell, Elaine Joyce, Lee Merriweather, Debralee Scott, Gary Burghoff, Orson Bean, Jo Ann Pflug, Barbara Rhodes, Mary Ann Mobley, Bert Convy, Bill Daily, Dick Martin, and announcer Johnny Olsen.
Get it here!
---