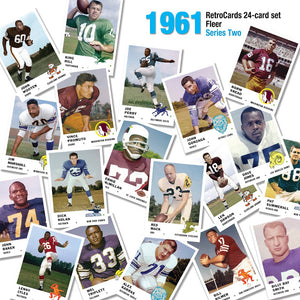 1961 Fleer: Series Two!
The 1961 Fleer RetroCards series continues with s second set of NFL players. This set features 24 more NFL players who didn't have cards in the 1961 Fleer set: John Wooten, King Hill, Joe Perry, Vince Promuto, John Gonzaga, Jim Marshall, Dick Nolan, Dave "Deacon" Jones, Norm Snead, J.D. Smith, Billy Ray Smith, Ernie McMillan, Red Mack, Lenny Lyles, John Baker, Len Dawson, Pat Summerall, Mel Triplett, Alex Karras, Billy Kilmer, Palmer Pyle, Danny Villanueva, and Lou "the Toe" Groza.
This set will be out soon so check back for availability and for the preview of the RetroCards 1961 Fleer series three featuring 24 new cards of AFL players. 
Order here!
---