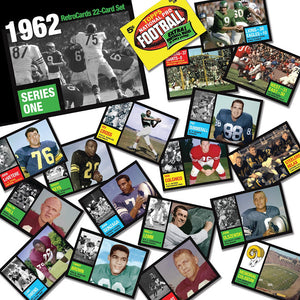 1962: Best Football Design of the Decade?
1960 marked the start of an important growth period in professional football with the addition of a new team in the south (the Dallas Cowboys) and the advent of the American Football League which began a competition for the country's best players and instigated a salary war. In an historic move, new NFL Commissioner Pete Rozelle cut a television deal that ensured that small market teams could share in the overall revenue, which contributed to the long-term health of the league.
Many collectors have commented on the beauty of the 1962 NFL football set with its dark borders and black and white action photos coupled with an attractive portrait of the player. RetroCards has created and additional 230 cards – released in 10 series, six of which are team sets. Several team sets that have been previously released (Dallas Cowboys, Green Bay Packers, Baltimore Colts, Chicago Bears, and Cleveland Browns), will be updated to fit into the new numbering system of Series 1-4, and a new Minnesota Vikings team set will be forthcoming. Series 1-4 will contain the eight teams which have not been represented in the team sets. These series will also include playoff cards, head coach cards, league & team highlights, and stadium cards for each team. 
Series one contains 22 cards and starts off with a wrapper card that enveloped football cards back in 1962, a Championship card (Packers vs. Giants), a Pro Bowl card, and an Playoff Bowl card.  Players / coaches include:  John Lovetere, Timmy Brown, Dan Colchico, Brady Keys, Galen Hall, John Gonzaga, Pat Summerall, Luke Owens, Karl Rubke, Nick Skorich, Dale Hackbart, John Olszewski, Wally Lemm, Irv Cross, and season highlights and stadium cards of the Rams and Steelers. Series two will follow shortly so check back soon!  
Available now! Click here.
---