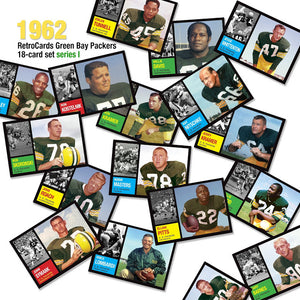 1962 Packers: The Next 18 Cards
Those small football sets of the 1960s just left collectors wanting more.  This special Packer set gives sports fans and additional 18 cards that were not in the original 1962 set.  This set is considered one of the finest sets of the 60's with it's sharp black borders, colored posed shot, and black and white action photos.
Players included are: Herb Adderley, Gary Barnes, Ed Blaine, Willie Davis, Ken Iman, Ron Kostelnik, Jerry Kramer, Ron Kramer, Norm Masters, Ray Nitschke, Elijah Pitts, John Roach, Bob Skoronski, John Symank, Emlen Tunnell, Jesse Whittenton, Willie Wood,  and coach Vince Lombardi are all featured in this set. You can get
your set here.
This set turned out so well, RetroCards has begun production on a 1962 Packers series II with an additional 18 cards!  That's a total of 36 more cards you can add to your collection.  Coming soon!
---