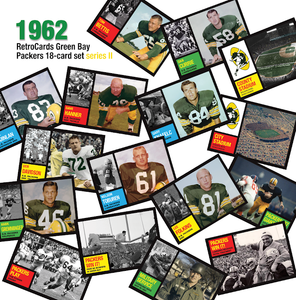 1962 Packers Series Two!
If you liked the 1962 Packer RetroCards set, you'll love this addition to an already nice set.  This completes the 1962 Packers in more way than one.  You'll see more players that were not in the first set and you'll get some highlight cards that focus on the Packers 1961 Championship victory.  A special Paul Hornung card honor NFL players that served military duty during the playing season back in 1961.
Players include: Dan Currie, Bill Quinlan, Tom Bettis, Lee Folkins, Dave Hanner, Gary Knafelc, Hank Gremminger, Ben Davidson, Lew Carpenter, and Nelson Toburen.  Other cards include the Packers Play - Sweep, three Championship cards vs. Giants, Packers Win, Paul Hornung Military Service, and a handy Checklist. Coming soon!
---