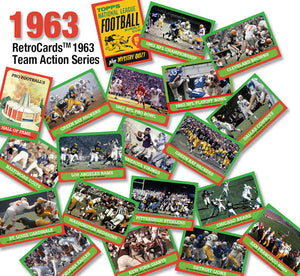 1963 Final Series
The 1962 NFL season was dominated by the Green Bay Packers who, at 13–1, exemplified what may have been the strongest Lombardi team ever. A Thanksgiving drubbing by the second strongest team, the Detroit Lions, barely slowed them down. The competition for players with the three-year old American Football League began to heat up as television ratings continued to rise.
This final set in the 1963 series offers team highlights and playoff cards to complement RetroCards 14 expansive team sets. Cards included are: NFL Championship, NFL Pro Bowl, NFL Playoff Bowl, Wrapper Card, the new Hall of Fame, Jim Taylor MVP, plus an action highlight for every team.
Make sure to check out all the individual team sets that contain 18-22 player cards of guys that didn't have cards in the original set.
---