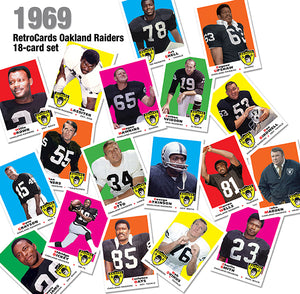 1969 Oakland Raiders
1968 saw the Raiders compile an impressive 12–2 record despite a rash of injuries to their defense including Tom Keating, Bill Laskey, and Kent McCloughan. Luckily, key rookies like George Atkinson stepped up to compensate. New stars were emerging like Warren Wells, Gene Upshaw, and Art Shell and in 1969, young coach John Madden took over and improved their 1968 to 12–1–1 in 1969. The Kansas City Chiefs proved to be too much for the Raiders in 1969, beating them 17–7 in the AFL Championship Game, but the Raiders had built a tradition of winning and that would carry them through the next decade. This 18-card set features: George Atkinson, Dan Birdwell, Willie Brown, Dan Conners, Cotton Davidson, Eldridge Dickey, Dave Grayson, Wayne Hawkins, Ike Lassiter, Carleton Oats, Gus Otto, Art Shell, Charlie Smith, Rob Svihus, Gene Upshaw, Warren Wells, Howie Williams,  and John Madden.
Order your set here.
---