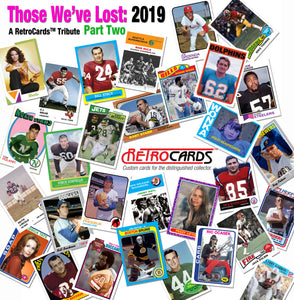 2019: Those We've Lost: Part Two
This second part of Those We've Lost in 2019 covers a wide mix of sports players, pop musicians, and tv personalities. 
Part two of those we lost in 2019 are: Bobby Dillon, E.J. Holub, Keith Lincoln, Vince Costello, John Ralston, Bill Stacy, Nick Buoniconti, Bart Starr, Tommy Brooker, Jerry Rook, Bob Rule, Larry 
Garron, Bill Buckner, Peggy Lipton, Valerie Harper, Tom Polanic, Jim Langer, Denise Nickerson, Joe Grzenda, Tome Phoebus, Sam Davis, Jack Dolbin, Mike Thomas, Donnie Green, Katherine Helmond, Rik Ocasek, Wally Chambers, Jim Pettie, Brian Bennett, and Ray Peters.
---