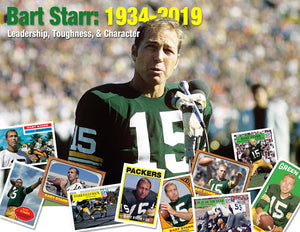 Bart Starr: Leadership, Toughness, and Character
Few athletes – no matter what sport – reach the level of esteem, adoration, and honor as Bart Starr has. He captained one of the greatest teams in American sports and in his retirement, was an ambassador of sorts to the league that he help make famous.
After a long series of illness and strokes, Bart Starr passed away on May 26, 2019. His rise to being one of the best NFL quarterbacks started with humble beginnings. 
In college, Bart Starr entered his sophomore year as Alabama's starting 
quarterback
, 
safety,
 and 
punter
. His punting average of 41.4 yards per kick ranked second in the nation in 1953 behind 
Zeke Bratkowski. 
In May 1954, Starr eloped with Cherry Morton, choosing to keep their marriage a secret. Colleges often revoked the scholarships of married athletes in the 1950s, believing their focus should remain on sports.
That summer, Starr suffered a severe back injury during a hazing incident for his initiation into the A Club. He covered it up by fabricating a story about being hurt while punting a football. He rarely played during his junior year due to the injury. The back injury disqualified him later from military service, and would occasionally bother him the rest of his football career.
Alabama conducted a youth movement for the 1955 season and only two seniors started for the team. While supposedly healed from the back injury, Starr rarely played in his senior season, an exception being playing in the Blue–Gray bowl of 1955.
Johnny Dee, the basketball coach at Alabama, was a friend of Jack Vainisi, the personnel director of the Green Bay Packers. Dees recommended Starr as a prospect to Vainisi. The Packers were convinced that Starr had the ability to succeed in the NFL and would learn quickly. In the 17th round of the 1956 NFL Draft, Starr was selected by the Packers with the 200th pick.
Starr began as a backup to Tobin Rote in 1956 and split time with Babe Parilli until 1959, Vince Lombardi's first year as Packers coach. In that season, Lombardi pulled starter Lamar McHan in favor of Starr, and he held the starting job henceforth. Teammate Jerry Kramer told an interesting story of Bart Starr's coming of age in a 1959 game against the Bears (taken from Milwaukee's Bob & Brian Morning show, 1/29/18).
"Early in Bart's career we didn't know who Bart was. He was so quiet and so polite and so gentlemanly and so unlike most of the guys, we really didn't know if he had any stone in his back; If he had some character. So we're playing the Bears and Bill George is playing middle linebacker.  Bart throws a long ball down the right sideline and my defensive tackle stops and turns around, Bart stops and watches, and everybody is watching the ball except Bill George. And Bill George decides it's time to greet Bart. So, he takes about a 5-yard run and hits Bart in the mouth with a forearm and splits his lip up into his nose. His upper lip split right up to his nose and knocked him on his backside.  He (George) said "that oughta take care of you Starr you "puddin'!"  I'm watching this and Bart is bleeding down his jersey, just flowing down his jersey and I go "Bart you'd better get to the sidelines and get sowed up."  He said, "Shutup and get in the huddle."  I said, "Yes sir!"  He stayed in the game for 8 or 9 plays, we went the length of the field and scored.  We went to the sidelines, and we weren't quite as delicate as the boys today, so they just laid him down on the bench and put 11 stitches in his upper lip and he never missed a play. He did talk kind of funny.  At that moment, I think, he became our leader and we could see how tough and how much character he had." (listen to the radio broadcast here)
Here are some of Starr's achievements:
Four-time NFL Pro Bowler
Four-time NFL All Pro
Voted NFL Most Valuable Player by both AP and UPI in 1966
Chosen as Super Bowl MVP in 1966 and 1967
Inducted into the Pro Football Hall of Fame in 1977
One of six Green Bay Packers to have his number (15) retired by the team
Starr has an NFL award named after him. The Bart Starr Award is given annually, by a panel of judges, to an NFL player of outstanding character
Inducted into the Wisconsin Athletic Hall of Fame in 1981
Won five Championships
Has the highest postseason passer rating of any quarterback in NFL history with 104.8[2. Kurt Warner 102.8, 3. Matt Ryan 100.8,  4. Drew Brees 100.0, 5. Aaron Rodgers 99.4]
Has the highest postseason record at 9–1 .900 [2. Jim Plunkett 8-2, .800  3. Tom Brady 30-10, .750 4. Terry Bradshaw 14-5, .737  5. Troy Aikman 11-4, .733]
His career completion percentage of 57.4 was an NFL best when he retired in 1972
Held Packers' franchise record for games played (196) for 32 years, through the 2003 season
RetroCards has created several Bart Starr cards that are available in several sets.  Check them out here.
---