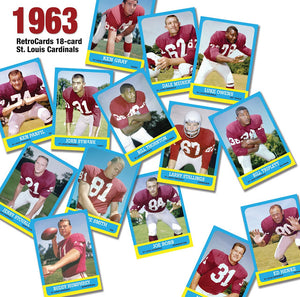 Cardinals Of 1963: Earning Respect
The Cardinals had moved from Chicago to St. Louis in 1960 after years of failure and losing money.  1962 was a down season for the Cards and they posted 4-9-1 record after going 7-7 in 1961.  Despite the losing record, Sonny Randle caught 16 passes for 256 yards in a single game and John David Crow scored 17 touchdowns. Rising stars like Larry Wilson, Jackie Smith, and Bobby Joe Conrad turn some heads.
A new stadium was in the works for St. Louis and Cards finished with a strong 9-5 record in 1963. Injuries to backs Crow and Prentice Gautt forced veteran Joe Childress into the starting lineup along with converted defensive back Bill Triplett. The Cards found a solid quarterback in Charley Johnson who led the team to a 9–5 record, nearly making the playoffs, earning them some much needed respect.
This RetroCards set features 18 players that didn't have cards in 1963: Dale Meinert, Ken Gray, Mike McGee, John Symank, Luke Owens, Ken Panfil, Jackie Smith, Buddy Humphrey, Larry Stallings, Jerry Stovall, Joe Robb, Bill Thornton, Bill Triplett, Jimmy Burson, Ed Henke, Mal Hammack, and Bill Stacy. Get your
custom set he
re.
---