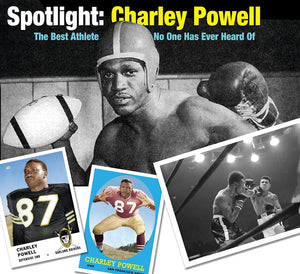 Charley Powell: The Best Athlete You've Never Heard Of
One of the greatest unknown athletes of the 20th century is a guy almost no one has ever heard of. Name one athlete who played professional football, baseball, and boxed professionally. This person also turned down an offer to play with the Harlem Globetrotters as well as offers from UCLA and Notre Dame. His name is Charley Powell.
RetroCards is featuring this somewhat obscure athlete with the intent of showcase his amazing highlight of being a multi-sport athlete. First of all, he may be best known as the older brother of American Football League star Art Powell, who was one of the AFL's top receivers in the 1960s (his other brother Jerry played in the WFL for the Hawaiians). Charley's career, however, was far more diverse. Here is a quick timeline of his achievements.
1940s  Boxed as a teen to help support his family.
1947-1950  Won 12 varsity letters. Ran the 100-yard dash in 9.6 seconds, high jumped 6 feet, and put the shot 57 feet 9–1/4 inches.
1950  Named Southern California Prep Player of the Year.
1950  Turned down football scholarship offers from UCLA and Notre Dame.
1951  Turned down an offer to play with the Harlem Globetrotters.
1951  Signed with Cleveland Indians minor league team the Stockton Ports.
1952  Signed with the San Francisco 49ers as the youngest player to ever play in the NFL at the age of 19.
1952  In his 1st game (vs. the Champion Detroit Lions) he sacked quarterback Bobby Layne 10 times.
1950s He and Hall of Famer Joe Perry were the only black players on the 49ers and sometimes had to stay in different hotels than their white teammates.
1954  Took a year off from the 49ers to box full time. 
1955  Rejoined 49ers and played through the 1957 season.
1958  Beat Charlie Norkus in a boxing rematch.
1959  Knocked out the #2 ranked heavyweight boxer in the world, Cuban Nino Valdes Nino.
1960  Signed by the San Diego Chargers and traded to the Raiders.
1960  Joined Oakland Raiders, playing defensive end, playing 2 seasons.
1963  Lost to Cassius Clay (later called Muhammad Ali) in Pittsburgh before 17,000 fans.
1964  Was paid $10,000 to fight Floyd Patterson, to whom he lost in six.
1965  Finished with a boxing record of 25-11-3 (19 KOs).


It's been discussed that his full potential in any one sport may have been marred by spreading his talents over several sports; a jack of all trades, master of none. Had he focused on one sport, he may be a well-known name today. RetroCards honors this great athlete with a new 1961 Fleer card from the forth coming 1961series three set. Look for it soon!
---