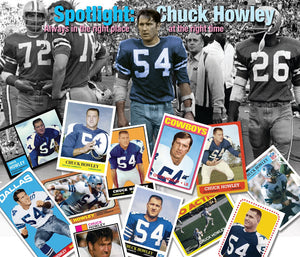 Chuck Howley: Right Place, Right Time
Great defensive players seem to know how to be in the right place at the right time on the football field.  Chuck Howley had that special intuition and his knack for anticipation mixed with his speed made him indispensable on the Cowboys first Doomsday Defense.  One of the great play makers of his day, Chuck Howley played in 191 games over 15 seasons.  He was a seven-time All-Pro, a six-time Pro Bowler and has the dubious distinction of being the only Super Bowl MVP chosen from a losing team. Strangely, he is not in the NFL Hall Of Fame and is on a short list of players from his era who should be in the Hall.
A five-sport athlete at West Virginia, he was the 7th player taken in the 1958 draft by the Chicago Bears.  In 1959 he badly hurt his knee and retired.  By 1961, Cowboy coach Tom Landry caught wind of Howley's recovery and took a gamble, trading a 2nd and 9th pick to obtain him. The gamble quickly paid off and Howley was an instant starter in 1961, missing only 4 games in the next 12 seasons. His speed was ideal for the weak side linebacker position but he was so athletic, he could play the strong side, cover speedy receivers, and rush the quarterback.
The Cowboys finally made it to the Super Bowl after the 1970 season and although the Cowboys lost a game they should have won, Howley managed to win the MVP award in what was labelled as the "Blunder Bowl." Howley explained, "It was one of those kind of games when I was in the right place at the right time, all the time.  Even when I made mistakes and was out of position, I was in the right place." He was in consideration for a consecutive MVP for Super Bowl VI but that prize went to the venerable Roger Staubach.
As his career wound down, so did the old Cowboy regime.  He retired after the 1972 season but Tom Landry convinced him to join the taxi squad in 1973 to mentor some of the young linebackers and retired for the third time at the end of the 1973 season.
His exclusion in the Pro Football Hall of Fame is troubling but he is one of several fine players from the 1960s and 1970s that RetroCards will be featuring over time.  Check out Chuck Howley RetroCards that can be found in many 
Dallas Cowboys team sets
.
---