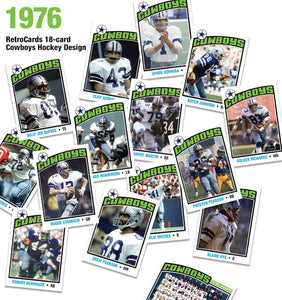 Cowboys On Ice In 1976
One of the fun parts of creating custom cards is you can utilize all sorts of different designs.  The 1976 Hockey set was a very attractive design that works perfectly for another Cowboys set.  America's Team, love 'em or hate 'em, were really getting exposure by this time and their Super Bowl appearance that January did little to slow down their popularity.
This set includes: Roger Staubach, Preston Pearson, Harvey Martin, Butch Johnson, John Fitzgerald, Blaine Nye, Drew Pearson, Golden Richards, Too Tall Jones, Cliff Harris, Rayfield Wright, Charlie Waters, Billy Joe Dupree, Robert Newhouse, Thomas Henderson, Efren Herrera, Tom Landry, and a team card. Order yours
here!
---