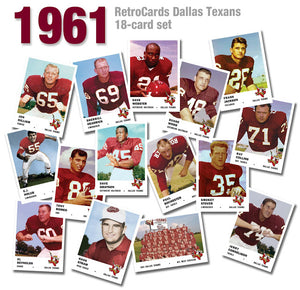 The Dallas Texans, The AFL's Forgotten Team
The AFL got off to a surprisingly strong start in 1960.  Several of the owners had been refused NFL expansion franchises or had minor ownership of NFL teams and saw the potential to expand pro football beyond the NFL's meager 12 markets in 1959.  The AFL started by signing 75% of the NFL's first-round draft choices in 1960 and began a competitive run through the first few years of the new league's existence.  Though the AFL had ups and down, it only took six years before talks of a merger with the NFL became realistic.
One of the leaders of the upstart league was Lamar Hunt.  Wealthy from his father's oil inheritance, Hunt applied for a NFL franchise in Dallas but was turned down.  He also attempted to purchase and move the Chicago Cardinals to Dallas with no luck.  He was successful founding the Dallas Texans who immediately fielded a competitive team, going 8-6 in their inaugural season. This AFL RetroCards set features 18 cards based on the 1961 classic design and features a team card and Hank Stramm.  You'll find Sherrill Headrick,  Tony Romeo, Ray Collins, Paul Rochester, Jerry Cornelison, Jon Gilliam, E.J. Holub, Doyle Nix, Frank Jackson, Duane Wood, Dave Webster, Al Reynolds, Curley Johnson, Dave Grayson, Smokey Stover, and Jerry Mays.
Get your set here.
---