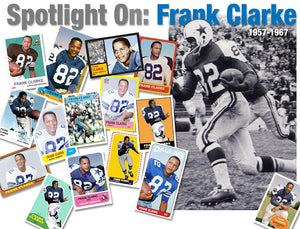 Frank Clarke: In The Spotlight
In the very early days of the Dallas Cowboys wins were rare, players were average at best, and the franchise struggled in nearly every aspect of the business.  Through these rough times, there was one player that stood out and became the Cowboys first  "star" player.  Frank Clarke, a cast off from the Cleveland Browns, found himself on the Cowboys roster via the expansion draft.  His time on the Browns was unremarkable as he battled to catch on – both on the field and off. 
Despite the segregation, Jim Crow laws, and prejudices awaiting him in Dallas, Frank Clarke was one of the very few players who actually wanted to play for the expansion Cowboys, which sums up how dismal of an experience he had in Cleveland.  Even the most prolific black player in the NFL, Jim Brown, wouldn't give Clarke the time of day.  In three seasons with the Browns, Clarke caught only 10 passes for zero touchdowns.
In that difficult 1960 season when the Cowboys went 0-11-1, Clarke was a reserve receiver playing behind old veterans Billy Howton, Jim Doran, and Ray Mathews.  Nonetheless, his numbers were very impressive with 9 catches for 239 yards and three touchdowns.  By 1961, he was one of the stars of the Cowboys offense along with Eddie LeBaron and Don Perkins.  He had back-to-back monster seasons (by early 60s standards) in 1961 and 1962.  Despite his production, there were no cards printed for him from 1960-1963 except for the obscure 1962 Post Cereal Card. 
A native of Beloit, Wisconsin, the soft-spoken and agreeable Clarke was a dependable team player for Tom Landry.  To allow Bob Hayes into the starting lineup, Frank gracefully accepted a move to tight end.  "If Tom Landry wanted me to put on a '70s number and play tackle, I would have done it without a word."  RetroCards designed several "cards that never were" to honor one of the early Cowboy's gentlemen, Frank Clarke.
---