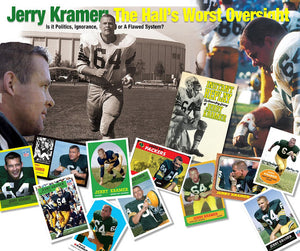 Hall Of Fame Hopeful: Jerry Kramer
One popular discussion in sports is who should or should not be in the Pro Football Hall Of Fame.  Perhaps the most deserving name on the list of who should be in is Jerry Kramer, Packer guard from the Lombardi era.  He was a modern era finalist from 1974-1987 and eligible as a senior inductee since 2002. There have been websites and surveys to help get him voted in but induction to the Hall has been elusive.  The most glaring fact is that he is the only member of the NFL's 50th Anniversary Team who is not in the Hall. Even the NFL Network listed he at #1 as the top player never inducted into the Hall of Fame.
Here are the quick look has his accomplishments:
•  5-time 1st Team NFL All-Pro
•  2-time 2nd Team NFL All-Pro
•  3-time Pro Bowler
•  5-time NFL Champion
•  NFL 60s All-Decade team
•  NFL 50th Anniversary Team
•  Green Bay Packers Hall Of Fame
•  All-Super Bowl Team
•  Kicked winning field goal in 1962 NFL Championship
•  Threw the most famous block in NFL history helping Bart Starr score the winning     
   touchdown in the 1967 NFL Championship
Pretty impressive considering there are not a lot of NFL guards that can claim these lofty accomplishments.  Here are some speculative reasons why he may not be in the Hall with a response for each:
1. Voters are loathe to vote in another Lombardi Packer.  Not true. Twenty-four years after Willie Wood was inducted in 1989, teammate Dave Robinson was inducted in 2013. 
2. The inclusion of Dave Robinson in 2013 now makes it even harder for Kramer to get in. Paul Hornung disagrees, "Hell, we won more than anybody.  Why shouldn't we have more? We won more championships."
3. Voters don't want to vote a third offensive lineman from the same team in (Forrest Gregg and Jim Ringo are the other two).  Not true. Three lineman from the Oakland Raiders made it: Jim Otto, Gene Upshaw, and Art Shell.
4. Kramer struggled playing against Alex Karras and Merlin Olson.  Who the hell didn't?
5. Kramer's tiff with Green Bay Press-Gazette sports editor Art Daley, who represented Green Bay with the Hall of fame.  Kramer gave Daley an interview late in his career just after being chewed out by Lombardi on the practice field.  Kramer was in a bad mood and he "blew up," saying things "I shouldn't have said." 
Decades later, Kramer says, former New York Giants linebacker Sam Huff called him to share a rumor. Huff heard a Green Bay sportswriter wasn't adequately arguing Kramer's case for induction.  "Sam just said, 'Your guy in Green Bay isn't supporting you,'"  Packer historian Cliff Christl knew Daley well and denies this.
6. Some writers didn't like Kramer's book Instant Replay.  Did Kramer break the taboo of letting the press into the locker room?  I can't see any of today's voters caring about this unless they were in the press themselves, which would seem to help Kramer's case.
7.  Fellow Lombardi-era guard Fred "Fuzzy" Thurston was as good as Kramer.  Thurston was All-Pro once and had no where near the physical abilities Kramer had.  Kramers was at the top of his game longer than Thurston.
9. Gale Gillingham, the guard who came in toward the end of Kramer's career and replaced Fuzzy Thurston after he retired, was a better guard, and is therefore more deserving.  Does this logic mean that Brett Favre shouldn't go in because Aaron Rodgers follows him and he was "better?"
10. Canton is a money-making enterprise and adding another small market player from a team that already has 11 is not desirable.  Then why did Dave Robinson get in in 2013?
More than 40 former NFL players, including 34 Hall of Famers, have endorsed Kramer. It started informally with Sam Huff in '97. The former linebacking great, inducted in 1982, went around and collected seven other letters of recommendation.  Merlin Olsen explained, "Jerry earned my respect as we battled eye to eye in the pits on so many long afternoons. Jerry Kramer belongs in the Hall of Fame."  Players like Bart Starr, Paul Hornung, Frank Gifford, Bob Lilly, Chuck Bednarik, Doug Atkins, and Alan Page have also supported Kramer's cause.
One explanation is given by Ed Bouchette, Hall of Fame Voter, "I vote in the baseball Hall of Fame too and it's easy.  You've got every stat you want.  We're still trying to figure out a stat for right guard."  Ray Didinger, former Hall of Fame voter, offers, "Of all the players not in the Hall of Fame, the one that mystifies me the most is Jerry Kramer.  I don't know how he isn't in the Hall of Fame."
Scout Chris Landry, doesn't have a good answer but suggests that many of the sportswriters that vote may not have the understanding of how good a lineman was during that era - particularly an offensive lineman.  There are no stats for their performance and film footage doesn't reveal enough.  He also states that more personnel (players and coaches) from that era should be consulted in the process to ensure oversights.  The 46 media members that vote may not be the best judges of seniors.  Kramer has been a Seniors finalist 10 times.  Maybe it is time to have some current inductees weigh in on the process.  
Kramer has come to terms with the fact that he is not in the Hall.  He feels it is part of his legend and would rather be a man everyone believes should be in the Hall as opposed to being a Hall Of Famer no one believes is worthy.
Facebook - https://www.facebook.com/JerryKramer4HOF/
Petition - http://www.greenbaypackernation.com/jerrykramer4hof/
---