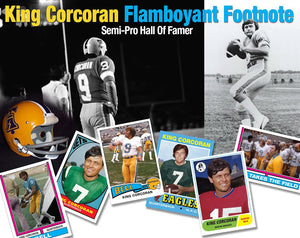 King Corcoran: A Poor Man's Joe Namath
Since the dawn of athletic competition, the sports world has been littered with fallen, but colorful figures.  Some make a name for themselves with stellar athletic ability while others teeter between the brink of stardom and the halls of obscurity.  The somewhat unknown Jim "King" Corcoran belongs to the latter category and was one of the more gaudy sports figures that few have ever heard of.
Once called a "poor man's Joe Namath," Corcoran spent most of his pro football career tearing up the semi-pro Atlantic Coast Football League.  He also found success in the World Football league but only had minor stints with some NFL clubs in the late 60s and early 70s.  He orchestrated several championships for teams in the Atlantic Coast Football League and lived out the life of a sports superstar.
Born on July 6, 1942 (not in 1943 as often reported) his play in college earned him tryouts with AFL and NFL teams but he often clashed with authority and since his skills weren't good enough to warrant teams putting up with any shenanigans, his stints were always short lived.  Joe Namath told him, "King, you got the arm. And you got the head. But you got to quiet down. You got to know who butters your bread." He discovered his niche in semi-pro football where he led his teams to several league championships. He was well known enough that the character "King Sturtevant" was based upon him in the Rockford Files episode "No Cut Contract."
By the time he hit the WFL in 1974 he was already 31 years old but he managed to lead the league in touchdowns in 1974 playing for the Philadelphia Bell.  He retired after the WFL folded in 1975 and went into real estate.  He contemplated a comeback when the USFL's Denver Gold called him in 1982 but he declined.
He continued with an up and down career, a low point coming in 1997 when he served six months in federal prison for tax evasion. He died of a heart attack on June 19, 2009 at the age of 66 while living at a friend's house in Takoma Park, Maryland.
Time line of Corcoran's football career:
1961 University of Maryland – Led freshman team to undefeated season
1962 University of Maryland – backed up Dick Shiner
1963 University of Maryland – kicked off the team
1964 University of Maryland – projected at the starter but broke his ankle
1965 University of Maryland – played sporadically
1966 Denver Broncos training camp - cut
1966 Wilmington Clippers - Atlantic Coast Football League
1967 Denver Broncos training camp - cut
1967 Waterbury Orbits (Connecticut) - Atlantic Coast Football League Champions
1967 New York Jets - taxi squad
1968 Lowell Giants (Massachusetts) - Atlantic Coast Football League – Undefeated until Corcoran joined the Patriots
1968 Boston Patriots - played sparingly
1969 Pottstown Firebirds (Pennsylvania)  - Atlantic Coast Football League
1970 Pottstown Firebirds (Pennsylvania)  - Atlantic Coast Football League
1971 Philadelphia Eagles – cut in training camp
1971 Norfolk Neptunes (Virginia) – Atlantic Coast Football League Champions
1972 Montreal Alouettes – CFL, refused to play 3rd string
1972 Chambersburg Cardinals (Pennsylvania) – Seaboard Football League
1973 Michigan Sabers (Flint, Michigan)
1974 Philadelphia Bell – WFL, lead league in TD passes
1975 Philadelphia Bell – WFL, backed up Bob Davis until the league folded mid-season
• He majored in Economics at Maryland
• Wanting to shed his poor-kid background, he always dressed to kill and drove a fancy car
• His custom-equipped Lincoln Continental Mark IV had a mobile telephone, copier, coke machine, and bar.
• He is in the American Football Association's Semi-Pro Hall Of Fame
• Didn't smoke or drink
• Was a model for Kelley Tires in the late 1970s
• While with the Philadelphia Bell in 1975, he got cut when he called a quarterback sneak that wasn't in the playbook.
• He was an expert in military history
• He spoke Mandarin Chinese and learned it while at University of Maryland
• Denver Bronco's coach caught him in bed with 6 women.  The actual story had a Bronco running back caught with 2 women after bed check.  Corcoran was not involved with the incident.
• Corcoran claimed to have defeated Roger Staubach's Navy team in the 1964 Crab Bowl.  This was erroneously reported by Wikipedia and repeated by several news sources in the wake Corcoran's death in 2009.  Maryland beat Staubach's Navy in 1961 with Corcoran throwing for 2 touchdowns and running for one more.
• He was not, as he later claimed, to be a native American who was born on a reservation.
• Didn't get his nick-name by coming out at halftime of a high school game with a clean uniform after a muddy 1st half.
• Didn't play polo with Sylvester Stallone.  He played with his father, Frank Stallone.
Unverified stories from the Corcoran Kingdom
• Corcoran later spent some time in Las Vegas as a singer and performed with Engelbert Humperdinck.
• He wore sunglasses on the sidelines and refused to practice in the rain.
RetroCards shines some light on this seldom-mentioned player with a few cards to put him on the sports collector's map.  A special thanks to Jim Corcoran, King's son, for providing several factual verifications. (Repost from 2018)
---