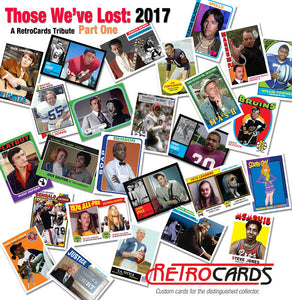 Lost In 2017: Part One

RetroCards shines one last spotlight on some of the sports figures and pop culture personalities that we lost in 2017. I think it's safe to say many of these people have made life more fun and enjoyable.


Some of the cards you see here have already been released such as the Non-sport sets like
Kolchak: The Night Stalker
features a card of Dick Gautier, while Patty Deutsch can be found the
Match Game set
. Many of these sports cards can also be found in RetroCard team sets that are
available.
Since we lost so many in 2017, I am splitting this entry into two posts. Here are the honorees:
Sports figures we lost in 2017: John Reaves, Babe Parilli, Gene Conely, Dave Stallworth, Y.A. Tittle, Connie Hawkins, Bernie Casey, J.C Caroline, Joe Fortunato, Dave Grayson, Wayne Walker, Larry Grantham, Toby Kimball, Lee Maye, Don Baylor, Dave Stallworth, Yale Lary, Steve Jones, Danny Schock, Ken Gray, Mamie "Peanut" Johnson, Tommy Nobis, Charley Hennigan, Pervis Atkins, Jerry Kindall, Ray Brown, Ernie Fazio, Al Luplow, Hal Bedsole, and Willie Townes.
TV & Pop Culture figures we lost in 2017: Patty Duetsch, Richard Anderson, Erin Moran, Bobby "the Brain" Heenan, Adam West, Martin Landau, Stephen Furst, William Christopher, Mary Tyler Moore, David Cassidy, Jerry Lewis, Hugh Hefner, Butch Trucks, Gregg Allman, Richard Hatch, Fats Domino, Chuck Berry, Walter Becker, Tom Petty, Dick Gautier, Glen Campbell, Chuck Barris, Monte Hall, Jim Nabors, Robert Guillaume, Heather North, John Hillerman, Malcom Young, Judge Joseph Wapner, Heather Menzies, and Rose Marie.

P.S. In a effort to further honor humanity, RetroCards refrained from creating a Charles Manson card. 
---