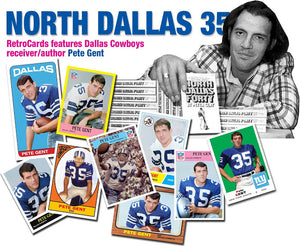 Pete Gent: Author, Cynic, and All-Around Good Receiver
Pete Gent is rightly remembered for his hard-edge novel
North Dallas Forty
, a book about how pro football teams exploited their players, which is based on his experiences with the Cowboys.  His colorful demeanor clashed with head coach Tom Landry's and GM Tex Schramm's old-school ways but he managed to be a productive member on the team from 1964-1968 in spite of that.
Credit the Cowboys for asking Big Ten basketball coaches for players that might make it in the NFL.  At the bottom of the list was Gent who Cowboy's scout Gil Brandt went to visit at Michigan State.  Brandt saw him as a defensive back and signed him.  The only trouble was Gent had no talent for playing defense.  He was able to catch passes however, and the Cowboys kept him as the sixth receiver, cutting quarterback Sonny Gibbs to make room for him.
Gent came to the Cowboys as a fairly mild-mannered non-drinker and non-smoker.   He hung with Dave Manders and Frank Clarke and their families and attended SMU Law School at night.  But by the second training camp in 1965, he roomed with Don Talbert, one of the four "Varmint Brothers," and his life was never the same afterward (that story is for a different blog post).  In spite of his cynicism and non-conformity, Gent was a solid contributor for five years though injuries often slowed him down.  Through his friendship with Frank Gifford, he got a tryout with the New York Giants but Gent, who by this time was insufferable and uncoachable, wore his welcome out quickly in New York and found himself a civilian in 1969.
His first novel
North Dallas Forty
came out in 1973 and the film of the same name in 1979.  The two main characters were based largely on himself and Don Meredith.  Surprisingly, Gent never had a card! So RetroCards has righted that wrong with 9 new cards of old number 35.  He died from a pulmonary disease in 2011.
---