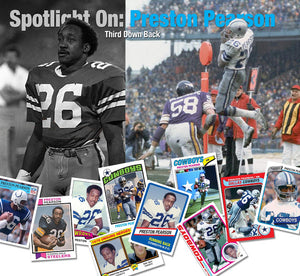 Preston Pearson: Original 3rd Down Back
Known as the player who defined the role of "third down back," Preston Pearson enjoyed a long NFL career, and despite limited but unique physical abilities, he became a crucial team member and adjusted his skills to what the team required.  As a student of the game and rigorous trainer, he was able to outsmart – and consequently outplay – several of his defensive opponents.
Most known for his time with the Cowboys, he created what amounted to a new position on offense – the third down back – a pass receiver whose role it was to work underneath the defense and make the first down as an outlet receiver.  The Cowboys offense during his 6 seasons there was arguably the most complex and fanciful in the league; exploring daring formations and shifts that "hid" the running backs and confused many defenses.  Pearson, though not a big scorer, was generally able to catch a pass that moved the chains and in 1978, he made a first down on 88% of his catches.
Preston Pearson played football in high school, but was mainly a basketball star, playing center.  After writing a letter to head coach Harry Combes at the University of Illinois, be made the basketball team as a walk on at the guard position.  He has the distinction of being one of the few players to ever block a Lew Alcindor (Kareem Abdul-Jabbar) "sky hook."  Mainly a defensive specialist, he never had much of an offensive game and didn't have a future in the NBA.  Despite never playing college football, the Baltimore Colts drafted him in the 12th round as a longshot and he responded by impressing coaches with speed, drive, and athleticism.
The Colts first tried him at defensive back where he languished on the taxi squad.  His value began to show through as he excelled on special teams and as a kick returner.  In 1968, he lead the league in kick return yardage (35.1) which included a 102-yard TD return.  He started to play running back and was named captain of the Colts special teams.  He was traded to the Pittsburgh Steelers in 1970 and became a starter and by 1971 was the second leading rusher on the team with 605 yards.  An injury forced him out in 1972, allowing an opportunity for future Hall of Famer Franco Harris, a role Harris would not relinquish.
With Harris developing into a star, a natural move for Pearson was to wide receiver, but he was moved back to running back.  By 1974, he was the outspoken player representative that wore out his welcome during the 1974 strike.  He was waved at the end of training camp in 1975 and was immediately scooped up by the Cowboys.  Needing a roster spot, the Cowboys parted with young quarterback Jim Zorn, who had had a great camp but was merely a third stringer.  Now the Cowboys had a versatile veteran on offense to complement an number of proven weapons.  His biggest game that year is when he caught 7 passes for 137 yards and 3 touchdowns vs the Rams in the playoffs.  Unfortunately, the Cowboys lost the Super Bowl to Pearson's former team the Steelers.
Tom Landry began using him as a receiver out of the backfield on 3rd downs and he was so effective, this became more important than his running back or kick return duties.  As the second leading rusher on the Cowboys in 1975, he faced the ultimate challenge from Heisman winner Tony Dorsett in 1977. Pearson had earned the starting running back role and he did everything in his power to keep it from Dorsett.  He could only hold off the future Hall of Famer for 9 games as Dorsett ran away with Rookie of the Year honors.  The Cowboys won Super Bowl XII that season and, with the arrival of Dorsett, Pearson's future role as a receiver became more defined and vital.  He led the team in receptions in 1978 with 47 and continued catching first downs through the 1980 season at the age of 35.
He played in record five Super Bowls (III, IX, X, XII, and XIII) and is the only player to play for Don Shula, Chuck Noll, and Tom Landry.  It is notable that he also played alongside running backs Lenny Moore, Franco Harris, and Tony Dorsett as well as in the same backfield and John Unitas, Terry Bradshaw, and Roger Staubach.  Coach Landry said of him, "He's one of the best halfback blockers I've seen."  Not bad for a third down back!  Read more about Preston Pearson in his autobiography Hearing the Noise: My Life In the NFL.
Many of the cards shown above are part of exiting Cowboys team sets or are forthcoming from RetroCards.  Check the
website
and come back often as new cards arrive!
---