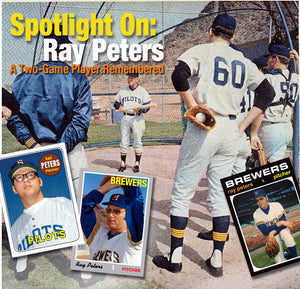 Ray Peters: A 2-Game Player Remembered
One of the pleasures of making custom cards is the occasional athlete that contacts us ands asks to have cards made for him. Often times they use them for autographing, to give to their kids or grandchildren, or just to finally be immortalized on a piece of cardboard. One sweet moment came when the daughter of a former player had cards made for her Dad, and presented them to him on Father's Day. Ray Peters was a former major league baseball player who never had a baseball card. He played in two games, 1 inning each, and that was the totality of his major league career. Though we never met in person, I was lucky to be asked to create some cards for him so he could use for autographs. He helped provide details for the two series of 
1970 Milwaukee Brewers
 that RetroCards released and offered plenty of details of the guys he played with. He was always taken aback by requests for his autograph, as he shared with me, "Even someone like me, who only appeared in two games! I still get asked for an autograph by mail about once per month." In another email, Ray went into more detail:
"Over the years I've been receiving requests for autographs and I never had any baseball cards to send anyone, so I wrote TOPPS and asked for the negative of the photo they took of me back in 1971.  (In the old days the player received, to the best of my recollection, between $50 and $75 for allowing TOPPS to use his picture.
Back in the old days (1970) TOPPS photographed all 40 men on the Major League roster, but basically only printed cards on the 25 players who broke Spring Training with the "big" club.  Since I wasn't called up to the Majors until June 1970 and wasn't on the big league roster in 1971 (traded to the Phillies – Pete Koegel and me for Johnny Briggs), they never printed my card.  However, what I have sent you is the TOPPS photo, which would have been my 1971 TOPPS card, had they printed it!
I played with and against some interesting guys: one of my first roomies in pro-ball was Tom Kelly, former manager of the Twins and a very nice guy; my catcher at Portland was John Felske, former manager of the Phillies; my catcher at Eugene in 1971 was "Stump" Merrill, former manager of the Yankees;  and I gave up the hit that allowed Bobby Valentine, former manager of the Mets and Rangers, to break the AAA Pacific Coast League record for hits in a season; Greg Luzinski was my 1st baseman at Eugene in 1971 (Bob Boone and Mike Schmidt were only in AA Reading, PA with the Phillies that year!!!) Lots of great memories. One of the best is that the great Jimmie Reese, one of Babe Ruth's roommates, was our batting coach in Portland in 1970. What great stories he told! The 1968 SPORTING NEWS ALL-AMERICA TEAM has me as right-handed pitcher, some guy named Garvey (Steve) was at 3rd base and another named Paciorek  (Tom) was in the outfield, and the catcher was named Thurman Munson; I feel I was in pretty good company back then! I – a pitcher – even hit a grand slam homerun to beat Phoenix a week before I got married in 1970!!
Though my major league career was a matter of days, I was fortunate to pitch against my childhood batting heroes – Al Kaline was my favorite right-handed batter and Vada Pinson my favorite left-handed hitter. I walked Kaline and got Pinson (who should be in the Hall of Fame) to fly out, after singling in his first at bat.  LUCK plays a great part in sports. In my two innings I gave up only singles, four of which were broken bat bloops.  Against Detroit I walked two and one batter got a single; I was taken out with the base loaded and no runs in and the reliever comes in and gives up a grand slam homerun and I'm sent back to the minors!!! That's life."
Ray passed away on May 4, 2019. He was 72.  His son set up a 
commemorative website
 to honor his Dad.
---