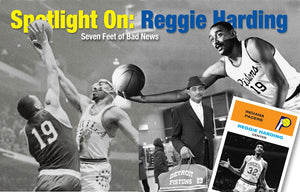 Reggie Harding: Baddest Of The Bad Boys
The history of 1960s pro basketball shows a sport at the beginning of a big rise.  The pro game began to develop as more athletic and physical players arrived on the scene.  The new American Basketball Association challenged the old guard NBA and a flood of new players that never would have had a chance in pro ball, found spots on rosters.
History has shown that any 7-foot basketball player – no matter what their skill level is – is always in demand.  "Maybe we can hone his skills.  Maybe we can control him.  Maybe we can design a role for him that helps our team."  That makes three "maybes."  Maybe that's what the Detroit Pistons were thinking when they drafted the first non-college-playing player in Reggie Harding in 1962. 
A Detroit native, Harding was selected in the 4th round of the 1962 draft from Eastern High School.  He was drafted a second time in 1963 (6th round) and made the Pistons roster, beginning a turbulent 6-year career that culminated with him being shot dead in the streets of Detroit at the age of 30 in 1972.
Not age-eligible out of high school, Harding played for a Nashville prep school for two seasons and then in the professional Midwest league in Toledo and Holland, MI. When he joined the Pistons, he was considered a project.  However he became a quick and solid contributor averaging 27 minutes in 191 games, and averaging 9.3 points and 9.3 rebounds per game in his tenure with the Pistons.  He was fun-loving but loved street life and surrounded himself with the sketchiest of characters – none of whom helped keep him on the straight and narrow. Clubs, drugs, crime, guns, and alcohol became his focus as he became increasingly undependable as his career progressed. He was suspended for the entire 1965-1966 season for what is believe to be a weapons charge and promptly wore out his welcome the following season.
Nonetheless, a big man is always in demand and the struggling Chicago Bulls (whose fan support rivaled many ABA teams with one reported home attendance figure in 1967-68 as a measly 891 fans) took a gamble on him.  The Bulls traded for him prior to the 1967-68 season and he lasted a mere 14 games.  After a brief stop to play for the CBA's  Trenton Colonials, he wound up in the ABA with the Indiana Pacers, who were desperate for a big man.  By this time Harding was at his most maniacal,  waking up roommate Jim Rayl at gunpoint and threatening to kill Pacer GM Mike Storen in a TV interview!  He lasted with the Pacers only 25 games and tt the end of the season he owed the Pacers $00 for being fined so much.
By 1968, his reputation and antics had caught up with him and he never played pro ball again.  Perhaps most disturbing were stories of him holding up the same gas station 3 times and raping a pre-Supremes Florence Ballard in 1960.  "A lot of people were very emotional about Reggie," Piston forward Ray Scott says. "Some people viewed his story as a fault of society. Society did fail him, but we were never able to get him off the street. In my opinion, Reggie was where he wanted to be."  For a more comprehensive account of Reggie Harding's plight, check out this SlamOnline
article
written by Michael Bradley.
Watch for the RetroCards 1968 Indiana Pacers set coming soon!
---