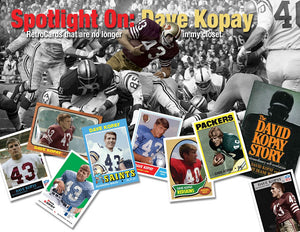 Spotlight On: Dave Kopay - Bringing His Cards Out Of My Closet
The name Dave Kopay may be familiar to many in the American gay community for having been the first NFL player to announce he was homosexual.  The announcement became official with his autobiography 
The Dave Kopay Story
. But since Kopay's book was published in 1977, only 4 other NFL players have "come out." Articles, news stories, and blogs have discussed Kopay's plight, putting the focus firmly on his homosexuality and the adversity he faced surrounding it. Since pro football players who "come out" are rare, Kopay has become a hero of sorts in the gay community and any retelling of his story is aligned with the politics of gay marriage or discrimination. If one looks past the politics for a moment, the question that might be asked is, "what kind of a player was Dave Kopay?"  
In the 1960s and 70s, it was unusual for a backup running back to enjoy a prolonged career as a spot player and special teamer, but that is exactly was Kopay did.  From 1964 through 1972 he was basically a backup running back that could catch out of the backfield, play some defense, and play vital roles on special teams. These type of players were a dime-a-dozen and teams have been littered with nameless and nondescript players that last two, maybe three years in the league.  But somehow Kopay lasted roughly 10 years as one of these players.  Now you don't last in the NFL for 10 years without bringing something valuable. So what did Kopay bring?
First of all, he was a student of the game with coaching aspirations.  Kopay was in tune with the bigger picture of strategy and execution that endeared him to coaches throughout his career.  His hard work, intense training, and athletic ability helped him be impactful anytime he was in the game.  He was known for heading the "suicide squad,' or the kick-off coverage team where he would be the first one down field to make the tackle.  Physically tough, a good blocker, a good pass protector, and special teamer extraordinaire, are the things he brought to the game that don't show up on the stat sheet.  For what it is worth, here is his stat sheet:
You can search out his book,
The David Kopay Story
or check out this
video
for more on Mr. Kopay.  The cards you see above are coming soon!
---