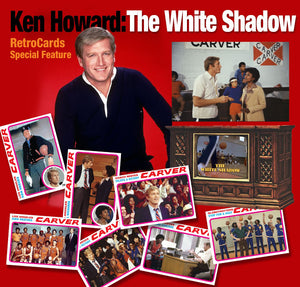 Spotlight On: The White Shadow, Ken Howard
Ken Howard's 40-year acting career came to a close with his passing on March 23, 2016.  His 40+ years in acting include career highlights such as being a Tony winner (Child's Play, 1970), Emmy winner (Grey Gardens, 2009), and the President of Screen Actor's Guild.  But he may be best remembered as Coach Reeves in the critically-acclaimed late-70s show The White Shadow.
Howard's television work included a starring role opposite Blythe Danner in the short-lived Adam's Rib (1973), the Quinn Martin show The Man Hunter (1974-75),  Dynasty, and The Colbys.  He guest starred on numerous shows over 30 years and had a vibrant theater and film career as well.
The White Shadow was appreciated for the hard-hitting subjects it covered but more so for the realistic basketball action and skills of the actors.  The show was based on Howard's own experiences as a high school basketball player at Manhasset High School on Long Island where he was nicknamed The White Shadow because he was one of the few white players and the only white starter.  The humor in the TV show was based on many of Howard's high school teammates.  A member of the National Honor Society in high school, Howard turned down several offers of basketball scholarships in favor of a more focused academic education. He was a graduate of Amherst College where he served as captain of the basketball team. He was also a member of the a cappella singing group, "The Zumbyes." He attended Yale School of Drama but left to make his Broadway debut before completing his master's degree.
With one of the  funkiest theme songs ever, it pulled this writer in instantly.  One of RetroCards' pet projects is 70s TV so the White Shadow covers that category as well as obscure sports figures.  
---