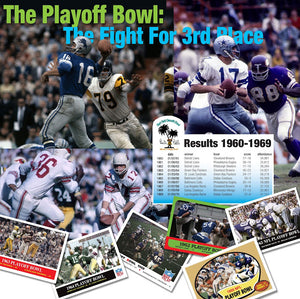 The Playoff Bowl: A Post Season Exhibition
If coming in second place makes you the first place loser, what moniker would be given to the team that finishes in third? Well, for ten seasons of NFL football from 1960 to 1969, that moniker was called "the winner of the
 Playoff Bowl
."
Officially named the Bert Bell Benefit Bowl after a league commissioner who suffered a fatal heart attack in 1959, the Playoff Bowl was played the week after the NFL Championship game (except for the 1969 game, which took place the day before) at the Orange Bowl in Miami. The participants were the second-place teams of the NFL's Eastern and Western conferences.
The Playoff Bowl gave the fans another dose of playoff action and raised over a million dollars for the Bert Bell players' pension fund.  Another motive for holding this game was to compete for television ratings against the new American Football League.  Having another dose of NFL players on television during playoff time generated revenue and gave a gentle reminder to all football fans that the NFL had established stars with established teams.  The Playoff Bowl, given its meaninglessness, drew several critics.  The most vocal critic was Hall of Fame coach Vince Lombardi, who referred to it as "the Shit Bowl" and called it "a losers' bowl for losers." Lombardi went on to say the Playoff Bowl was "a hinky-dink football game, held in a hinky-dink town, played by hinky-dink players. That's all second place is – hinky dink."  Lombardi forgot to refer to himself as the hinky-dink coach who won the Playoff Bowl over the Browns after the 1963 season.  Lombardi lost the game after the 1964 season giving his Packers sole possession of fourth place. 
Even those who came out on the winning side had their complaints. Roger Brown, who won all five Playoff Bowls he played in, called his participation "pitiful."   Other players appreciated the opportunity to compete against another solid team and the extra money earned from playing in the game always was welcomed.
In 1970, when the merger with the AFL was complete, the league decided to discontinue the Playoff Bowl. Further distancing itself from the "losers' bowl for losers" (and also the pensions of retired players), the NFL only recognizes the Playoff Bowl as an exhibition game—making the official title of third place nothing more than "best case scenario" for the New York Jets.
All-Pro quarterback Frank Ryan of the Browns was asked if teammates reminisce about it when they get together.  "It never comes up," said Ryan.
---