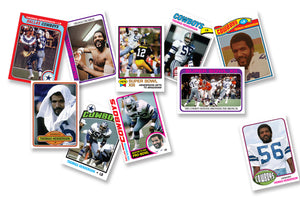 Hollywood Henderson
Various custom RetroCards of Thomas Henderson spanning designs from 1976-1980.
One of my favorite players growing up was linebacker Thomas Henderson.  He was a Pro Bowl player for the Dallas Cowboys and just when I though he would be an All-Pro for years to come, his career took a nasty turn as he was kicked off the Dallas Cowboys in 1979.  Eventually called "Hollywood" Henderson for his antics on and off the field, he has become more known for his substance abuse problems and eventual recovery.  Though his career was cut short due to many excesses, he leaves an interesting legacy as a player and now as a motivational speaker.
His book "Out Of Control - Confessions of an NFL Casualty (1987)" is a great read and really gives an interesting perspective from a high profile player on a high profile team.  A series of motivational videos, "Yes, I'm Still Clean," can be found on YouTube.  Henderson is eloquent, inspiring, and funny in these candid talks about his recovery.
One of the most amazing parts of the Thomas Henderson story is NOT that he is a two-time lottery winner,  but that he still remained clean after winning millions of dollars.  I am honoring him with several custom RetroCards with designs from the 1976-1980 era.
---